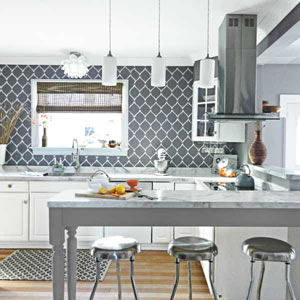 It's not unusual for a
This Old House
reader to see a blank wall and think "canvas." Witness Haley Julian, who at eight months pregnant was teetering on a ladder with a paint roller in hand when her husband, Marc, happened into the kitchen and talked her down. "He keeps me grounded," says Haley.
The couple was finishing up a rush DIY redo of their 19th-century house, and Haley, who is drawn to the way things look, had hit on a way to get the drama of high-end wallpaper without throwing budget-minded Marc for a loop. After putting down a gray base coat in a flat finish (Clark+Kensington's Ominous Cloud), Haley used white semigloss (Dutch Boy's Ultra White) and a pair of stencils to apply a pattern called Hourglass; one large stencil made the work go fast, and a smaller one allowed her to get into tight spots ($40 for the set;
cuttingedgestencils.com
). Soon she was busy on the dining room side of the peninsula, using the same stencils but applying dark over light (Ominous Cloud atop Clark+Kensington's Oyster Pearl).