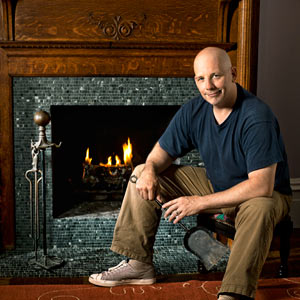 November/December 2012

"I think we've come a long way," my wife said to me.

Actually, we'd come about three hours by car, to a weekend cottage in the mountains, but that's not what she meant. What she meant was that we weren't home, that I wasn't in my work clothes with my tools spread out around me, that I hadn't made trips to the home center on both Saturday and Sunday, and that we as a couple had had a breakthrough of sorts.

Let me explain.

You see, earlier in the week the shower went on the fritz. The pressure-balance valve, which is meant to prevent scalding, was acting up and shutting down the water flow even when a sink or toilet wasn't being used elsewhere in the house. At the time I said to her, "Don't worry—I'll fix it this weekend."

"Right," my wife said, "while you order new screens for the kitchen, caulk the backsplash, fix the ceiling fixture in the baby's room, add a toilet lock to the powder room, anchor the TV to the wall, and plant those perennials we bought on sale back in July." She actually didn't say those things, but I knew she was thinking them, and she was right, of course. I'd been putting in long hours at work, and projects were piling up at home, and I was exhausted. "Can we just take a breather," she asked, "and call a plumber?"

For reasons I still don't understand (temporary sanity, perhaps?), I agreed, and I've got to tell you, compared with the satisfaction of finishing a project myself, calling someone in to do it for you ranks right up there. Did it cost us more? Of course, but it also let us—me, really—recognize that everyone needs a break from the DIY grind.

That's what she meant by "come a long way," which she'd said standing at the little cottage's sink, rinsing out wineglasses as I walked back into the room after tending the fire. Just as I was about to respond, she let out a scream. I turned to face her, and as I did, a long arc of water shot out the end of what had been a pull-out faucet and hit me right between the eyes. She looked at me, looked at the detached end of the faucet in her hand, and fell into laughter as she saw the water running down my face.

"What do we do now?" she said, as she threw a towel over my head. I offered: "Turn the water off?" She did, and I, soaking wet, headed off to the basement to see if I could find any tools. And on the way, I realized that a house will always have more breakdowns than you will have breakthroughs—all the more reason to put away the toolbox and, at least metaphorically, put your feet up. There's no chance that they'll stay there for too long.