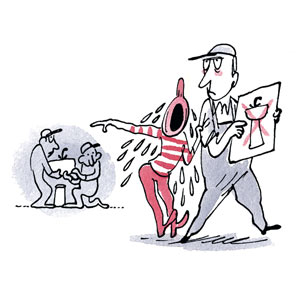 Clients from Hell: a Field Guide
People love to trade tales about contractors who charge too much, do too little, or even disappear before the job is done. But it turns out there are two sides to this relationship. You didn't know? Well, maybe you're already the kind of classy homeowner who can melt a heart hardened by years of working inside other people's homes. For those who may be newer to the tradesman-client relationship, meet the six most dreaded homeowner-personality types in the business. All are based on real-life stories shared by pros who have seen it all and hope never to see these types again. If you recognize yourself, don't panic; we've included suggestions on how to redeem your reputation. Now all you need is to get one of your favorite pros to return your phone calls.

The Hysteric
Identifying trait: Childlike inability to see the bigger picture

Pros hate having to break in a novice, especially one as touchy as a feral cat. "I had a homeowner call me in tears because my crew was wrecking her house," says Steve Miller, a former contractor who helps match homeowners with pros in San Jose, California. "I rushed over to check it out. Then I had to try to calmly explain to her as she continued crying that everything was going fine. Yes, the home was in shambles—it's called demolition." If rough stuff also makes you nuts, keep in mind that Rome wasn't built in a day; first they had to clear some space. Still hate to watch? Hide out at Starbucks.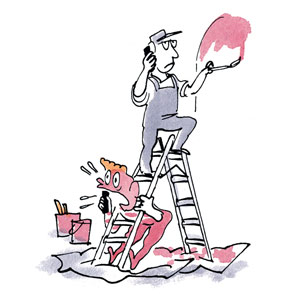 The Compulsive Communicator
Identifying trait: Eyes always locked on a small electronic device

Communication is a good idea, up to a point. "I had a homeowner who called, e-mailed, and texted me all day long," says one general contractor, who requested anonymity. "If I didn't respond right away, I'd get a call, an e-mail, or a text about not responding. It became unbearable." Some CCs also have a hard time knowing what qualifies as an emergency. "Being upset with a paint color is not an emergency," pro David Lupberger says calmly. To avoid pounding your pro with hailstones, send one note at day's end—an evening squall, so to speak.