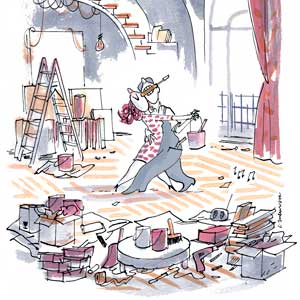 4. Learn to talk the talk
Figure out what your project involves before you call in a pro. "The more you understand about what they do, the better you can communicate with them and the better you can review their bids," says Zembruski, who uses how-to books, online videos, and magazines like This Old House to get up to speed. Part two of the education process: Ask any candidate for the job to explain how he or she plans to carry it out and which materials will be used. Giving a pro a chance to explain can foster collaboration and, who knows, maybe some creative thinking about how to do it for less. Impatience sends the wrong signal, says Lupberger. "It implies you're not interested in a working relationship."

5. Take the lowest bid? Fuhgeddabouddit
You want the best work, not the best price, says Lupberger. Contractors and subs who charge more are licensed and insured and should take the time to keep the homeowner informed every step of the way—all of which costs money. Watch out for a "low-bid guy" working out of his truck, says Thompson, adding ominously, "I've cleaned up many jobs." Angie Hicks, of the consumer-to-consumer referral service Angieslist.com, recommends at least three bids and close scrutiny of licences, insurance certificates, and other fine print. "I find people who never read the contracts they sign," she says. "And make sure you get a contractor who's an expert at what you need done. You don't want your house to be a guinea pig."

Next, be sure to compare apples with apples. Consider offering your top candidate a flat fee to spell out each step and material so that others can bid on the same thing. "Generally, materials account for 40 percent of the total cost; the rest covers overhead and the profit margin, which is typically 15 to 20 percent," says Tom Silva. And, yes, says Steve Miller, owner of HomeProHub, a home-improvement consulting firm in San Jose, California, it's okay to negotiate. He recommends doing it by e-mail, which puts everything in writing and helps conquer fear of haggling. Even top pros have dry spells and may lower a bid to keep crew members busy, he says. Keep one eye on the calendar—winter months are often slow—and be flexible. "Life happens to pros, too," he explains. "Divorces, taking kids off to college. So stay in contact, and later, if he loses a job, he can pull up your e-mail."

6. Learn how to break up and make up
Some relationships fall apart despite everyone's best intentions, so establish a graceful way to exit if need be. Lupberger points to a provision hammered out by a fellow contractor that allows clients—and their pros—to bow out with seven days' notice. Consider adding an incentive clause, too. Homeowners often grumble when they can't penalize a contractor who finishes weeks—sometime months—after the projected due date. But a better idea is to dangle an award if he beats the clock. "I love that," says Thompson, who was once gifted with a $5,000 bonus on a big project. "That is complete fire under a contractor's butt."