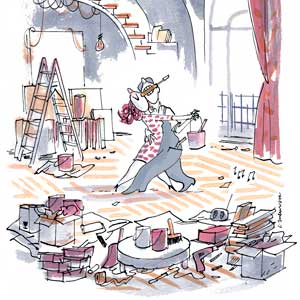 Maybe you're shopping for the ideal helpmate to kick-start a new project or you're already knee-deep in one. You may be unsure how to manage your tradesman's expectations—and your own. These are the best of times and the worst of times for remodelers. Any pro still standing in this economy is likely to be seasoned and more attentive than ever to your bottom line. At the same time, many top pros are so battle-scarred by clients cutting corners that they may want references from you instead of the other way around. "I no longer do competitive bids," says David Lupberger, a 20-year veteran of the bidding wars in Boulder, Colorado, who prefers smart marketing and networking. But he also advises fellow contractors to keep their minds and tool chests open. "Homeowners aren't putting up many $100,000 additions," he says. "Be ready to help hang a mirror." So whether you're about to get a leaky faucet fixed or entrust your dream kitchen to total strangers, keep reading to learn the new rules of the game.

1. Use a pro to find a pro
You get your root canals from an expert recommended by your dentist, right? Same goes for locating remodeling pros. This Old House general contractor Tom Silva suggests asking the local building inspector for leads. Homeowner Jim Zembruski, in Easton, Connecticut, found his plumber through his electrician; they'd worked together for years. Zembruski also opened a contractor's account at the local lumberyard, which allowed him to hang out with the insider crowd, pick up pro tips, and listen for the names of tradesmen who were in there so often that they were presumably in high demand.

2. Try a little romance
First meetings are like first dates. Here's your chance to size up a pro and vice versa—so make a good impression. And take your time! Lupberger notes that some homeowners are in such a hurry to get on with it that they forget they're about to entrust their house keys—and their sanity—to a stranger. Eric Thompson, a general contractor in Hampton Bays, New York, is among those who stress the importance of a good personality fit. "It's like any relationship. It should feel natural and comfortable, like when I met my girlfriend." Maybe that's why HomeAdvisor, an agency that puts homeowners together with service providers, uses algorithms borrowed from Match.com.

3. Get your act together
One of the worst scenarios ever is asking an in-demand general contractor for "a rough estimate" when you don't know exactly what you want. Get a good designer or draftsman to translate your vague vision into drawings and specs. "Being decisive and clear on the details will save you money, and the project will be more likely to meet your expectations," says Monica D. Higgins of Renovation Planners, a construction management firm in Los Angeles. It will also help you avoid dreaded "change orders," code for pricey, unanticipated upgrade decisions. And for heaven's sake, leave your friends and relatives out of the design process, says Thompson, remembering the time he overheard three friends going around in circles as they "helped" with a kitchen remodel, all the while saying things like "You really like exposed beams?"