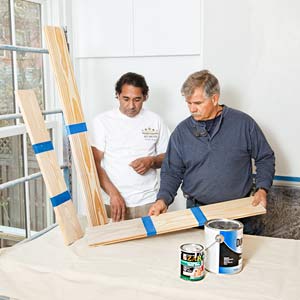 Experimenting With Stains and Finishes
The couple asked Tom and Mauro to highlight the grain and tone down its yellowish cast. Armed with pieces of whitewashed pine from the cabinet manufacturer to match and unfinished sample boards of his own, Mauro got down to business. For his first experiment, he used a water-based white transparent stain followed by two coats of water-based polyurethane clear finish. Too dull, came the verdict. "Water-based stains aren't absorbed as readily as oil-based ones," says Mauro, "so it's possible that the stain sat on top of the wood and obscured the grain too much, as a paint would do."

He got better results when he switched to an oil-based stain, but he paired it with the same water-based clear finish. "An oil-based clear finish can give the wood a slightly yellow tone, which Sally and John didn't want," says Mauro. Only after crafting several samples with more (and fewer) coats of stain and finish did he finally perfect the technique, imparting a subtle milky-white color to the pine that downplayed its yellow and honey undertones and brought the grain into sharp focus.

Now in place, the living room's wood ceiling comes as an unexpected touch that makes this all-white room seem a bit cozier and homier—even unfurnished. "It took us a while to get there, but it has just the effect we'd hoped for," says Sally.