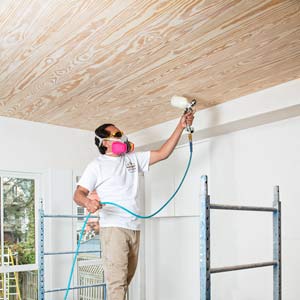 It may look period-perfect from the outside, but the interior of the current TOH TV project house, an 1887 Queen Anne in Cambridge, Massachusetts, is getting a unique look of its own from a completely different era. Since so many of the original decorative details inside the house had been stripped away during previous renovations, owners Sally Peterson and John Stone decided to convert its look to the modern Scandinavian style, pioneered in the 1950s, that Sally had admired for years. "Though I was born in the U.S., my family is Swedish," she says. "I've been to Sweden to visit extended family, and it's where I became drawn to clean, simple, functional design."

Among the many elements the couple is incorporating from this style is whitewashed woodwork, including built-in cabinetry in the dining and living areas, and wood ceilings in the living room and parts of the kitchen and master suite. "Clear-stained or whitewashed wood surfaces are often used to add texture and warmth to the simple white interiors common in Scandinavian design," says Dee Elms of Terrat Elms Design, the project's interior designer. Though the factory-built cabinetry is being finished off-site using a translucent, oil-based stain and sealer, the ceilings and handrail are being finished in place. So TOH general contractor Tom Silva asked painting contractor Mauro Henrique to develop a match for the whitewashed cabinetry finish that Sally and John had approved.

Even experts like Mauro and TOH master carpenter Norm Abram, who has 30-plus years of woodworking and furnituremaking under his tool belt, agree that staining wood involves as much art as science. "You've got lots of variables: the color of the wood, its porosity and graining, the color of the stain, whether it's oil- or water-based," says Norm. "It takes patience to get all these elements lined up to your liking."

Fortunately the first step—finding the right wood for the built-ins, ceilings, and handrail—was straightforward. Oak or birch are more common in Scandinavian design, but here, southern yellow pine emerged as the clear winner for both cost and aesthetics. The pine is not a single type of tree but rather a group of species native to the southeastern United States that are common and easy to mill. It's a popular choice for interior finishes in American homes, says Dee, and Sally and John liked its unique horizontal graining.