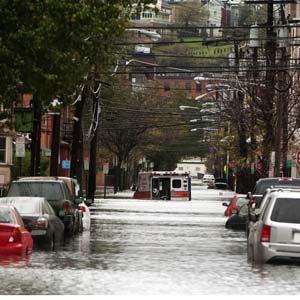 Get Hurricane Sandy volunteer, donation, and relief info
.
As I write this I'm thinking I've sort of told this story before. It was last year, about Hurricane Irene. But Irene's roundhouse punch missed my neighborhood and did its damage elsewhere. This time, Hurricane Sandy swung from back on its heels and connected hard on the chin.
My family and I have built a little life for ourselves right across from New York City, in a square-mile community of 50,000 people called Hoboken. Hoboken, New Jersey, is a rich patch of American soil: birthplace of baseball, the nation's first brewery, the zipper, Frank Sinatra, and dozens of other things that make life better. That includes the way its shoreline shoulders the Hudson River as it flows by, and, in fact, it's where
On the Waterfront
was filmed and where Marlon Brando, seeing it had all been taken from him, croaked, "I coulda been a contender."
But no one, contender or champion, could have ducked the punch that Sandy threw. That's true here in my community, true a hundred miles south, a hundred miles east, and true in some places where communities are now nothing more than broken boards and muck. Sandy was a heavyweight.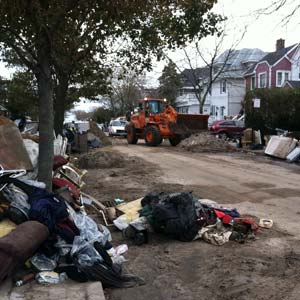 As you read this, a few weeks after the storm, it's possible a good measure of life will have returned to normal for some, though certainly not all, of those affected; maybe fresh foods and gasoline will be available, power and rail lines restored, FEMA and the National Guard gone. But I'm not so sure. Right now there is a 25-foot sailboat keeled over on its starboard side on the sidewalk just a few blocks from my house. The park my son once skinned his knees in has washed away, replaced by a rat's nest of debris and uprooted trees. Neighbors and their families in the south and west of town flooded to the third story in a bathtub of 500 million gallons of Hudson River water and raw sewage. And, as I write this, five days after Sandy's waves muscled over the river's bulkhead, with cold weather now biting at people who fled with only the clothes on their backs, there is no estimate for when most can expect the return of electricity and heat.

We somehow fared well at my house. We even kept power, though 90 percent of the town didn't. I know people who have it so much worse—here in my town; down at the Jersey Shore, where blocks of homes have disappeared beneath the sand; in Breezy Point in Queens, where more than a hundred houses burned to the ground. And people died—no one I know, but human beings with lives and families—that frightening night.