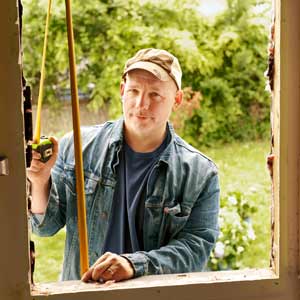 August, 2012
You see the photo at left? That's me without a window. If in my hand there were a pot—something I'm also without—that nonexistent window would be the one I'd throw it out of.
You may be familiar with an earthier, more complete version of that saying, but I think you get the idea. I'm feeling a little broke lately. And while I don't mean to cry poverty—I know for certain my family is in many ways very fortunate—it seems there's never enough left over at the end of the month to do the things around the house I really want to do: the curb-appeal project; making the laundry room a nicer place, considering how much time we spend in it; finishing the basement.
I'd bet you guys feel the same way, given that most of you aren't (a) Bill Gates or Warren Buffet; (b) Bonnie or Clyde; or (c) evil wizards with the power to bewitch Bill Gates or Warren Buffet and have them wire piles of cash into your bank account. I mean, if you are a wizard, e-mail me, because I have a favor to ask, but it's unlikely, I know.
What is likely: A few of you won't find yourselves in my predicament, because as part of The Great TOH Giveaway in
August 2012
issue of
This Old House
magazine, Simonton Windows is supplying a grand total of $49,500 worth of high-quality vinyl replacement windows to three lucky readers; all you've got to do for a chance to win is go to our Shop Smarter column (page 51) and scan the tag you'll find there with your smartphone. If you haven't used a smartphone scanner before, you'll find directions when you turn this page—and if you don't have a smartphone, you can go to
thisoldhouse.com/win
and enter that way.
Simonton isn't the only company offering big prizes this year. DaVinci Roofscapes is giving away $50,000 worth of its handsome Bellaforte shake roofing—its tag is in the Photoshop Redo column (page 67). And then there's Kohler, which is giving a few lucky
TOH
readers nearly everything by offering six separate bathroom suites (page 44), a residential generator (page 112), faucets, and even a kitchen sink or two (page 59).
They're joined by other generous folks whose tags you'll find throughout the issue, with prizes ranging from ceiling fans to countertop cookers to a hot-tub spa to HVAC systems. There's a total of 325 giveaway prizes, for a staggering $460,974 worth of free stuff. There are no pots in The Great TOH Giveaway this year, but I figure if you win, you'll be able to afford your own. Good luck!