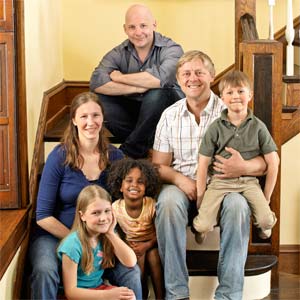 July, 2012
"Nom, nom, nom." That was the sound my son was making as he chewed the ears of his Sophie the Giraffe doll. I had packed him into his car seat and my tools into the trunk early one Saturday to go to my mother's. I was meeting my brother, who needed to make a pair of wardrobe closets, and Mom's garage is our workshop. Plus, she provides the babysitting service.
The little guy always makes the "nom, nom, nom" sound when he's chewing on something he likes, be it a teether or his dinner or my finger. It's a noise similar to the one Homer Simpson makes when he scarfs donuts, so, not surprisingly, it was making me hungry. But that was okay, because Mom's is also the family restaurant and I knew she'd be making us a big lunch; everyone pitches in somehow when there's work to be done.
As I drove and he continued to gnaw, my thoughts drifted to the stories you sent us for this Reader-Created Issue. Thousands of them. This is the fifth such issue we've done, and each year you've topped yourselves with even more creativity, more skill, more boundless energy. But mostly I was struck by how similar my own family's efforts were to yours—your shared labors, your willingness to pitch in to make a home for those you love with the only payback being that you did it together.
That's a powerful thing, and nowhere was it more apparent than in the Overbrook Farms neighborhood of Philadelphia, where the Wallacavage family lives in an 1890s Tudor. That's me with them on the stairs there, having just presented them with the
This Old House
Reader Remodel Contest grand prize of $5,000 and a GMC Sierra pickup truck. Mark and Katie leaned heavily on friends—from pig farmer to pastor—but most especially on family to help them save the derelict house and turn it into a home.
Mark tells their story here
, and it's an amazing example, but they weren't alone.
Take Brett Kush and his family. Sure, he and his wife, Kim, did most of the hard work on their house, but family came to the rescue in major ways. Once, they installed carpet, hooked up appliances, and brought furniture into the new nest while the couple was on their honeymoon; a few years later the family pitched in again, finishing up a nursery while Kim was giving birth to their daughter.
In so many of your stories, family is right there. Tim and Vicki Peterson sent in a picture to prove it: That's baby Timothy nestled in the Moses basket, alongside the bucket of grout his father was using to finish the family bath. (
See how it turned out.
) Sometimes that closeness spans continents. Matt Boyer video-chatted instructions on how to solder plumbing fixtures from the battlefields of Afghanistan to his girlfriend, Laura Miller, back in North Carolina as she renovated the entire house. Both are master sergeants in the U.S. Army Special Operations Command.