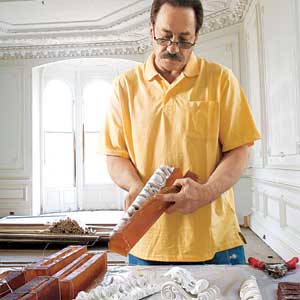 Ken Wildes, Master Plasterer, Joshua & Co.
Gazing up at a Ken Wildes ceiling encrusted with his signature sweeping drifts of floral ornament, it's hard to believe he started out as a drywall jockey, slapping compound into joints. That all changed in 1992, when, on a tour of Rosecliff, a Gilded Age mansion in Newport, Rhode Island, he became transfixed by its ornate plaster ceilings and had a life-changing epiphany. Wildes always had deeply artistic tendencies—"In high school, I'd play with clay like you wouldn't believe"—and in that ceiling he saw a way to marry art with his trade. Back home in Bellingham, Massachusetts, he began single-mindedly teaching himself how to make such ceilings of his own.
Wildes was a fast learner. His plaster medallions, cornices, and friezes—which he embellishes with handmade apple blossoms, figurines, and roses—soon won favor among his clients. By 2000, his work had wowed the Newport Historical Society, which hired him to replicate a ceiling in...Rosecliff mansion.
These days, Wildes, 60, travels the country in the company of his three sons, spending long days atop scaffolding, either restoring old plaster ceilings or creating new ones for institutions and deep-pocketed home­owners looking to top out a room with some classic bling. A single job can contain up to 30,000 elements and take up to six months to complete. It's not cheap, but, as Wildes says, with obvious pride, "When you have one of my ceilings, it's unique, an original work of art. No one can ever duplicate it."