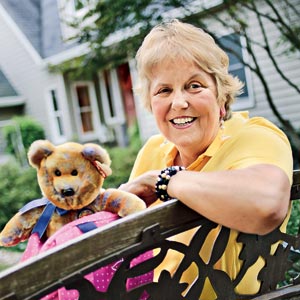 Our New Hometown Hero
For many
This Old House
readers, home improvement involves painting a room or fixing up the front porch. For Sue Smith of Lexington Park, Maryland, it meant starting a charity called the
Pajama Connection
, which provides at-risk children with a few of the comforts of home—an act that's earned her
TOH's
Hometown Heroes award.
Sue dreamed up what she calls her "retirement mission" while working as a nurse for the health department, visiting low-income families in shelters and motels to make sure kids received health care. "These families move often, and the children usually leave their belongings behind because they have nothing to carry them in," she says. "I wanted to give them something to call their own." After retiring in 2008, she began collecting backpacks and duffel bags, filling each one with a pair of pajamas, a stuffed animal, and a book. The donations have since expanded to include socks, toothbrushes, and school supplies given by area churches, businesses, and community groups. A committee of seven helps Sue pack the bags; she and her husband, Robert, deliver them to more than 40 children each month.
Her young recipients are so used to living hand to mouth that they often can't believe the donations are theirs to keep. "'I can even keep the bag?' is a common response," she says. The $2,500 prize will help the Pajama Connection buy supplies, but the real reward, Sue says, is knowing she's given some stability to kids with no place to call home.