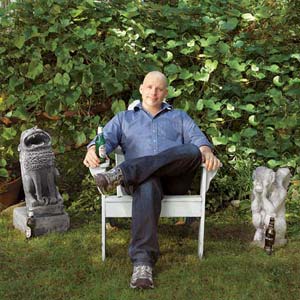 Letter from This Old House, June, 2010

"Why don't we take it to the lawn and eat there?" I said to my wife, who'd come home with a pizza on a gorgeous spring night. I'd just rolled out a lush carpet of sod in our backyard that afternoon, and we hadn't bought any outdoor furniture yet. And so we sat down in the grass to sup.

We ate and talked in the dying light of the June evening, and as we did they began moving toward us. From all directions, silently inching closer and closer.

My wife was the first to notice. "Oh, my God, oh my God, OH MY GOD!"

It was like we were in Night of the Living Dead, with the zombies converging on us from everywhere. But the zombies were slugs.

Fortunately, they didn't want us—they wanted the pizza. True story, they inched right by us toward the pie. Masses of them. Turns out they were much easier to deal with than zombies, too. They didn't require a well-placed whack to the brain like zombies—a good thing, 'cause I'm not sure if slugs have brains. The attack didn't even require me to be much of a hero. I just sort of picked them up when they got to the crust and flung them into the neighbor's yard, and that was that. Except for the one I missed.

A cautionary note on missing a slug: In the moonlight it might look like a lump of meatball on a slice of pizza, but it definitely doesn't taste like meatball on a slice of pizza.

More like zombie. Or at least what I imagine a zombie to taste like. Or maybe just a slug.

Anyway, I've lived in my house long enough to know that I shouldn't be surprised when a little bit of a horror movie plays out in the backyard. From the previous year's lawn that seemed to go extinct overnight (28 Days) to the rampaging squirrels (Willard) to the back-fence neighbor (The Blair Witch Project), I've got a regular fright show out there, not including my gargoyle drinking buddies. And we've even been on the verge of a sequel with the slugs (Dawn of the Dead?), since I still hadn't a clue as to how to furnish the backyard. But that was before I read the story on page 72, called "25 Thrifty Ways to Create an Outdoor Dining Space." Great-looking, clever stuff—and every one of those ways includes a table, which will happily put our next pizza night beyond the reach of all sorts of creepy-crawly critters.