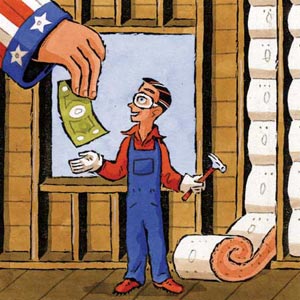 Some estimates state that unemployment in the construction industry is hovering around 25 percent. Few people would say that the housing market is on it's way to a quick recovery. And how many of you have actually seen an revenue increase in these past two years?
Regardless of your political affiliation, your belief in global warming, your opinion of the current administration, or your green-building-fatigue level, there is no denying that people's awareness of energy efficiency has reached new heights. When was the last time you talked to a potential customer who didn't ask at least one question about the energy use, cost, or efficiency of your proposed work?
Given all this, you may want to consider expanding the services your company offers.
Recent Federal legislation, known as Cash for Caulkers, passed a house vote last week and is headed for a Senate vote. Officially known as the Home Star Energy Retrofit Act, the legislation authorizes $6 billion to improve the efficiency of the nation's homes and reduce their energy consumption. According to a white house press release, The HOMESTAR program has the potential to jumpstart our economic recovery by boosting demand for energy efficiency products and installation services." The part about
installation services
is where your company might fit into the scheme of things.
The rule has two different tracks. The first, called Silver Star, offers cash rebates (as opposed to tax credits) of up to $3,000 per home for the purchase and installation of energy‐saving equipment, such as furnaces and water heaters, or home improvements, such as insulation and new windows.
The second track, Gold Star offers matching funds up to $8,000 to households that choose to conduct a comprehensive energy audit and then implement a variety of measures that are designed together to provide greater total returns in energy savings. Contractors who participate in Gold Star work must be accredited by the
Building Performance Institute (BPI)
and the
Residential Energy Services Network (RESNET)
.
Right about now, you're probably saying to yourself, "But my company doesn't do that kind of work. We only specialize in (chose one or more of the following): Finish work, Kitchen Remodels, Bathroom Renovations, Roofing, Siding, Flooring, Framing, New Construction, Custom Cabinets, etc." But as energy-use awareness among homeowners increases, and as energy saving gets continual nudging by Federal dollars, there is going to be more and more work for contractors who offer their services in these new fields. You could start learning more about it today, or you could say to yourself, "This energy stuff will never catch on. It'll end up being a big flop just like those other new things that everybody said was going to change the way I did business." Like, who even remembers (chose one or more of the following): pneumatic nailers, biscuit joiners, LVLs, cordless drills, cell phones, home computers, the internet, etc.?