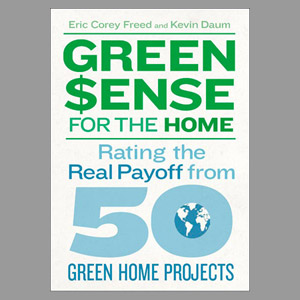 Chances are, you've had a client or two who has taken you aside and confidentially asked the big question that's on lots of people's mind: "So, what's the real deal with this whole green building thing? I mean, I like the environment as much as the next guy, but I have to balance my checkbook along with my concerns for the planet."

You might have chuckled nervously, conspiratorially even, and said something lame such as, "Well, it depends."

And your answer wouldn't have been incorrect, but it would have been incomplete.

A new book called Green Sense for the Home (Taunton Press, 2010) examines 50 green projects and takes a disinterested look at their cost, their payback, and their environmental impact.

The book is divided into three sections: 16 green projects you can do today; 21 green projects you can do tomorrow; and 13 green projects you can do when building new. The first section doesn't much pertain to homebuilding, but rather concerns itself with smaller do-in-a-day projects that a handy homeowner might tackle himself.

The second and third sections are what your going to want to read, perhaps study, so the next time a customers asks you the real deal about, for instance, installing a bamboo floor, you can speak intelligently about the pros, cons, and costs of the project. The 34 projects in these two sections cover a wide range of the sort of typical green work you might find yourself being asked about and eventually bidding on.

The book's two authors—a green architect and a custom-home consultant—give a straightforward cost-to-benefit analysis of all the projects in the book. Along with a handy key that rates costs, difficulty and green benefits, each project is explained in depth. The book is a quick but informative read. My favorite part of each project (and you can skip ahead to this if you just want the bottom line) is called The Bottom Line when you get several nutshell sentences.

Read this book, and the next time a potential customer asks, "So, is it worth it to put in a tankless hot water heater?," you can quote from the book:

"If you want the convenience of instant hot water, then you might consider a tankless water heater, but the cost doesn't justify replacement just to save the planet. If you recenty changed your hot water heater, it's best to leave well enough alone."

You'll sound a lot more informed than if you say, "Well, it depends."