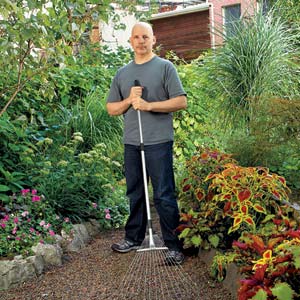 Letter from
This Old House,
May, 2010
"You know what they say," my wife offered: "Why pay someone else to do it when you can get the blisters yourself?"
She was being sarcastic, I think. Trying to tell me the scheme my brother and I had just hatched was unnecessary, or, as someone less kind might phrase it, "imbecilic."
The plan involved a little landscaping at my mother's, where my brother was going to have his wedding reception. Mom lives in a sweet but somewhat ramshackle house. Its saving grace is the property, a few parklike acres that skirt a lake. Problem is, a pretty steep hill sits between the house and the water.
Our idea was to build a boulder-lined switchback path from the back door to a two-story timber staircase we'd construct down to a gravel landing—which, because of a natural spring nearby, would need a dry well—connected to a walk that would wind its way under some shade trees along the shoreline to a picnic grotto and three-step terraced landing, where we'd hang a gangway to bridge the lake's shallows to deeper water, where we'd put a dock—nothing too big, maybe 15 by 15 feet, with utilities, of course—on pontoons.
"Easy," I said. "It'll take a weekend, tops." My wife stared at me without speaking. I thought, Funny how sometimes you can almost hear the word idiot through someone's eyes. "Mom will lend a hand," I said defensively, before adding, "and I'm sure Grandma will help."
In the end, even with Olive's—that's Grandma's—help moving the boulders, it took a couple of months of weekends. And though we got the project done, we expanded on my wife's old "You know what they say" adage to include the addendums "Why hire someone when you can get the mosquito bites yourself," "the poison ivy yourself," "the sunstroke yourself," and, no doubt from standing in the swampy water at the bottom of the dry well for too long, "some sort of moss-foot-fungus-that-smells-like-turtles yourself."
Was it worth it? Well, you know what they say: "No."
I mean, the results are great, and it cost a fraction of what hiring someone would have cost. But did we need it more than six or eight leisurely weekends? Let me put it this way: There's a story on page 74 of the May 2010 issue called
75 Easy Outdoor Upgrades for Under $75
, and it's chock-full of smart, budget-savvy improvement ideas. Most can be accomplished in hours, at little risk to life or limb, leaving plenty of time to enjoy the results. Check it out and let me know what you think. Drop me a note at
scott@thisoldhouse.com