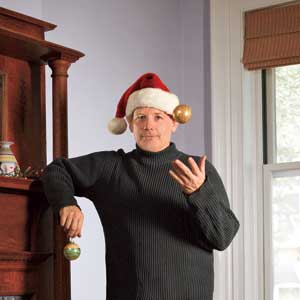 Letter from
This Old House,
December, 2009
"You know," I said to my brother, "I'm impressed that neither one of us was electrocuted today."
It was a Saturday night, and we were sitting—me, him, our wives—at the dinner table. He had come over to help with a bunch of pre-holiday home-improvement projects, including wiring a two-way light switch. "But still," I said, "it just amazes me how we never seem to get enough done."
He took that to mean I was ungrateful. My wife looked at me and, trying to be helpful (or trying to tease me—I'm never really sure), asked, "Well, why do you go back to the hardware store three times in one day?"
My brother, not looking up from his lasagna but definitely speaking to me, answered her: "Stupidity."
"You're stupid," I said.
"No, you are," he answered.
"Yeah, but you're more stupid."
Boys!
my wife said, raising her voice. "Do
not
make me call your mother!"
"Look," I said, settling down, "pros go to the supply house that many times a day—they just have a helper. That's what I need: a better helper."
"Not as much as I need a better brother," mine said.
My wife glared at me and then at the telephone before turning to my brother. "I know you need a better brother, but what are the chances of that happening?" He shook his head. "But," she went on, changing the subject, "it
is
that time of year—what else do you guys want?"
Now, I know it's better to give than to receive. And in the past I have given—in cash or by check or with credit card—to the plumber and the electrician, the plasterer and the painter. I have opened my wallet to the HVAC man, the cabinetmaker, no fewer than eight different home centers, and I don't know how many other retail and supply outlets. So the idea of a little receiving seems nice these days. Not that I want much. Really, I'd be happy with:
A CFL that lasts for more than 100 of its 10,000 hours.
A contractor who shows up when he says he will and finishes the job, if not when promised, at least in the same calendar year.
A professional model…wait, wait…I'm being rude. What about you, the
This Old House
reader? What do you want? Drop me a note at
scott@thisoldhouse.com
to let me know. I'd like to include some of your wish-list items in an upcoming issue.
Meantime, here's one more thing I want: for you and yours to have a safe, happy holiday and home.