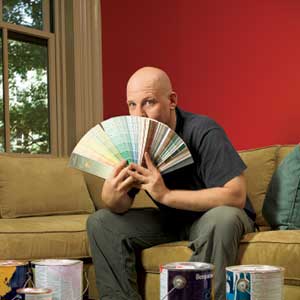 Letter from
This Old House
, November, 2009
"Whoa, you've got a red room up there," my neighbor Peter said. He and I were out front on the sidewalk chatting when he glanced up and saw my recently painted den through a second-floor window. I looked at him and nodded. And then in a singsongy voice he said, "Redrum." Just like the kid in
The Shining
.
He chuckled as he wandered back in the direction of his place. "Redrum, redrum…redrum, redrum…."
Not surprisingly, this was right before my house tried to kill me; if you read last month's Letter From
This Old House
, you'll recall that the room in question threw down its heavy plaster ceiling, narrowly missing my head.
Now, the den wasn't always so homicidal—but it wasn't so red either. It started out Roadster White (
Ralph Lauren
ww31), a genteel old color. I liked it, but my wife thought we needed some excitement. So we took a gamble on Silver Dollar (
Benjamin Moore
1460). It was a little lightweight, so we tried Elephant Gray (
Valspar
4006-2A), then Dust Storm (Valspar EE 2046C), then a couple of other colors before ending up with what you see here: something called Geranium (Benjamin Moore 1307), though the way things are going, it might be more aptly named Carrie at the Prom (I'm guessing that one is Benjamin Moore 666).
Sure, color, as we always say at
TOH
, gives a room personality. Color, we say, creates an impact. It's just that, in my case, the personality is that of a Stephen King villain and the impact could cause bodily harm. Who knew?
Monkeys and birds, apparently. According to scientists, new research shows that if you put a member of either species in a cage with a companion showing one trace of red on its rump or on its crest, the nonred monkey or bird will cower in fear in a corner.
So what's this mean for you? Probably nothing, though I'd still recommend you read our two excellent paint stories:
Refresh Your Rooms With Color
and All About Interior Paint. They're full of tried and trusted advice guaranteed to help you make a safe—in all ways—choice for every room in your house.
Meanwhile, we live uneasily with our color, though not for long. In the photo here—no, I'm not using that fan deck to be all geisha demure, though let's hope the room thinks so—I'm looking for a new hue. Something less frightening. Something like the very sweet Puppy Paws (Benjamin Moore 1156).
Of course with my luck that color will grow up to be Cujo.