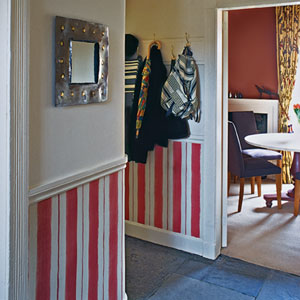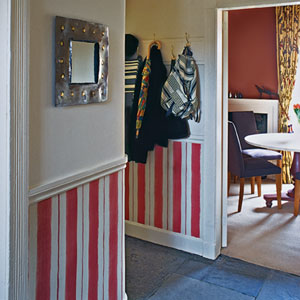 Cost:
About $50
Time:
2 days
Difficulty:
Moderate. Practice painting and rolling on some illustration board first to arrive at a look you like.
Painting meant to stand in for wood paneling goes back to the 19th century, but somewhere along the line it stopped trying to fool the eye. Today, chair rail often merely delineates a different paint treatment from what's on the upper walls, such as a contrast in color or, as here, stripes.
To give your walls a similar look, start with a neutral base coat, then pick a secondary color that'll pack some punch. Use a pencil, ruler, and plumb line to outline the stripes, suggests New York City–based decorative painter Alison Shapiro. Then, to give them an icinglike translucence, mix one part interior latex paint with two parts ­latex glaze, and pour it into a small roller tray. "The glaze-paint mix may be different from what you're used to, so practice on some illustration board until you get the right look and can do a stripe in one swipe," Shapiro says.
Roll on the wide stripes, and if your edges are slightly uneven, don't worry too much. Wait a day for the paint to dry, then add the pinstripes with a
½
-inch-wide round artist's brush. To introduce a little contrast, use straight color with no glaze for these.
Keep in mind that perfection is not the goal here. For that you could ­simply paste up some wallpaper or use copious amounts of painter's tape. You want your work to have a made-by-hand, folk-art quality. That's the secret to this look's charm.