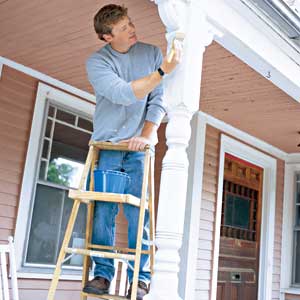 First-time homeowner and TOH host Kevin O'Connor steps up and demonstrates how to work safely on a ladder.

On a Stepladder

•Climb only the front of the ladder, never the back.

•Don't climb higher than the tread that's third from the top (there should two steps above you, including the top); never sit on the top.

•Keep your hips centered between the vertical side rails; don't overreach to either side.

•Never stand on the spreaders or paint shelf.

•Don't leave ladders unattended, especially around children.

•Allow only one person on the ladder at a time.

•Never lean a closed stepladder against a wall and climb it; it can slide out from under you.