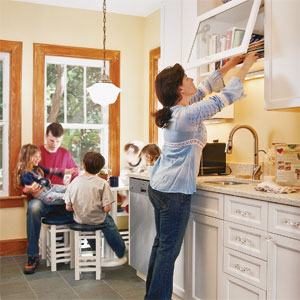 Great house, shoddy kitchen. That about sums up the attitudes of Penelope Sheely and her husband Sean after buying their 1907 Colonial Revival in Dobbs Ferry, New York. While most of the place was dressed in handsome millwork, the kitchen's original solid-wood ­cabinetry had been ripped out in favor of flimsy laminate boxes. "They were these 1970s cheapo cabinets—the kind I grew up with and always disliked,"says Penelope. They had to go.
The Sheelys wanted traditional-looking, well-built replacements. But most important, they wanted ones that would minimize their environmental impact and help safeguard their family's health. They considered cabinets made with salvaged lumber and ones finished with nontoxic paints. And they weighed the 20 percent premium they'd have to pay for such green credentials against the benefit of keeping their consciences and their indoor air clean. After months of research, the Sheelys finally found the perfect cabinets. To help streamline your search for eco- and health-friendly cabinetry,
This Old House
asked Penelope to share her best sleuthing advice.
Q: What were your must-have qualities for green cabinetry?A:
I'm the mother of four children, but I'm also a pediatrician. I wanted kitchen cabinets that wouldn't off-gas harmful chemicals. Kids are bombarded with toxins everywhere they go, so I wanted our house to be a sanctuary. The cabinets had to be free of the formaldehyde typically used in adhesives, and the off-gassing VOCs found in lots of paints. Being locally made was also important so that they wouldn't have to be shipped too far.
Q: That's a tall order. How did you find a cabinetmaker to fill it?A:
What saved us was a design firm called Green Courage in nearby New Paltz, New York. The owner turned us on to Breathe Easy, a company only 30 miles away from here. Their ­custom cabinets are made with
¾
-inch plywood held together with water-based adhesives. For the doors, we could go with solid wood, bamboo, or no-formaldehyde ­medium-density ­fiberboard (MDF).