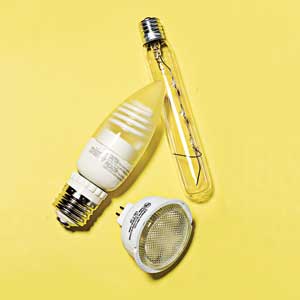 Tracking down typical screw-in incandescents or CFLs is a snap. Finding pin-mounted halogens or clear flicker bulbs for an old-school chandelier? Not so much. If you're in the dark about where to buy unusual bulbs, here's where
This Old House
editors go.
For Appliance Bulbs
:
Bulb Man Inc.
If you haven't replaced that tubular microwave bulb since it burned out 12 Super Bowls ago, The Bulb Man, which stocks hundreds of appliance lights, will help you illuminate those chicken wings again.
For Vintage-Style Bulbs
:
Rejuvenation
A reliable go-to source for reproductions, including pretungsten bulbs with carbon filaments and golden 1920s-era hand-painted beauties.
For LEDs
:
C. Crane
No matter which fixture you're retrofitting—can light, reading lamp, wall sconce—this site's sure to have the right LED bulb for the job.