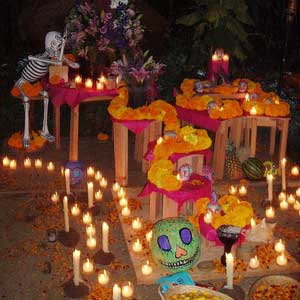 For centuries around the world, autumn holidays have been observed as a way of commemorating the dead and celebrating the harvest season. While black cats, skeletons, and trick-or-treating all have roots in other cultures, many of the things we assume were always part of Halloween (in some parts of the world known as All Hallows' Eve) were actually invented here in the United States. Take pumpkins for instance. Early settlers started carving them because they were more plentiful here than the gourds or turnips they had used in their native Europe. The same goes for many of our beloved decorations.

So how do people around the world deck their homes during Halloween or similar holidays such as All Saints' Day on November 1 and All Souls' Day on November 2? Some countries take a very similar approach to ours, while others have a very different take on this spectral time of year.

Ireland and Scotland: All Hallows' Eve
Several Halloween traditions, including trick-or-treating and prank-pulling, have been passed down from European immigrants, especially those from Ireland and Scotland. So, it's no surprise that the Irish also carve jack-o-lanterns, said to be inspired by the spirit of a wandering blacksmith named Jack who made a deal with the devil to stay out of hell but couldn't make it into heaven. Snap Apple, in which apples are hung from strings, is another All Hallows' Eve tradition in Irish households. Blindfolded children take turns to see who can be the first to get a good bite. Bonfires are lit in Ireland and Scotland to keep away evil spirits and attract the souls of deceased ancestors. If a girl drops a strand of her hair into the flames and dreams of her future husband to be, it is said that her dream will come true.