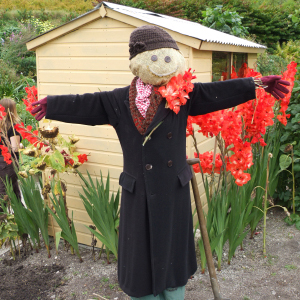 Move over orange and black: Green's soaking up the limelight this Halloween. It may take a bit of planning, but unearthing earth—friendly ideas this season—without losing one shred of freaky fun—is easier than you think.
Windows and Walls
Before launching your DIY decorating projects, replace the toxic skeletons in your closet, such as plastics, glues, and paints, with healthy alternatives. Green building-supply stores, including
ECO Supply Center
, in Richmond, Virginia, and
Bettencourt
, its sister store in Brooklyn, New York, stock eco-friendly paints by AFM Safecoat that are either low-VOC (volatile organic compounds) or zero-VOC.
For the wee ones or those who are just kids at heart,
Hearthsong
has plenty of crafty products, such as nontoxic window paint and gel clings, party favors made of eco-friendly yarn and felt, and a mist-maker that does not use dry ice or chemicals.
Tabletop Decorations
Pack up the family and head out to a local farm, says KC Eisenberg, the founding interior designer of
Ahimsa Design
in Ronkonkoma, New York, a studio that specializes in creating eco-chic environments. (Visit
Local Harvest
to find a farm near you.) Choose an assortment of pumpkins, squashes, and gourds in appealing shapes and colors. At home, arrange the larger pumpkins, carved or uncarved, on the front porch to greet trick-or-treaters. If you do decide to carve a pumpkin, enter our
pumpkin-carving contest
.
Inside the house, place groups of three or four smaller gourds on side tables, bookshelves, and the coffee table. For a season-appropriate centerpiece, place a larger group of gourds of various sizes in the middle of the table, with the largest in the middle and the smaller ones around the sides. Place the grouping on a bed of dried leaves collected from the yard and integrate a few beeswax candles or tea lights in glass votives into the arrangement. Create the same kind of arrangement with apples. Buy a variety of colors and sizes for a more relaxed look or go for modern elegance by choosing just one variety. After Halloween, these decorations can be turned into soups, pies, and other autumnal delicacies.