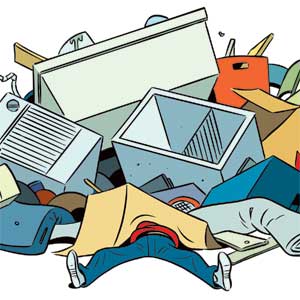 Whether you're updating a room or gutting an entire house, chances are you have piles of junk taking up valuable real estate. No problem finding takers for that claw-foot tub, but what about the stuff you can't sell on Craigslist or unload on eBay? You've got garbage, and you're not alone. Reader Jeff Kirk recently posted his own tally of accumulated trash on
message boards
: "After three days of demo, my 6x8 shed was full, the 10x14 deck was ­covered with contractor garbage bags, and a section of the yard was filling up with carpet." Small wonder.
This Old House
general contractor Tom Silva says it can cost up to $10,000 to make the guts of a whole-house remodel go away. So before you load up a Dumpster with shards of drywall and strips of wall-to-wall, lighten your load—and your disposal costs—by repurposing and recycling what you can. Then make sure the rest gets a proper burial. From dented washers and ­wheezing air conditioners to surplus boards and gypsum, here's how to do the right thing with your rubbish.
Carpeting
In the words of the National Association of Home Builders, "The bulkiness of carpet and padding waste can make disposal very costly." Manufacturers are making a concerted push to help you recycle it instead.
•
If Your Carpet
 is in good shape, with no stains or worn patches, donate it.
•
If You Have Damaged
or worn carpet and area rugs, click on a map at the Carpet America Recovery Effort to find a location where you can drop it off for recycling.
•
If You Must Toss It
, ask your sanitation department when and how to put rugs on the curb.