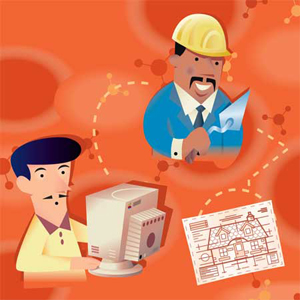 Professional-to-Homeowner Websites
Contractors.com
is a more traditional referral service. You submit a specific project, like the renovation of a 100-square-foot bathroom. A team of former contractors reviews your project for accuracy and submits it to licensed and insured contractors in your area. Then you hear back from local contractors interested in working on the project. Response time varies, but typically within 24 hours you'll have been contacted by at least three contractors.
Use of the site is free to homeowners; it's the contractors who pay for the service. Contractors who fit the licensing and insurance qualifications of Contractors.com can pay yearly dues to be "certified" by the site, which entitles them to pay additional money for leads on projects submitted by homeowners. Contractors can also pay more for premium placement in the website's contractor directory, which is visible to site visitors and includes homeowner-generated reviews and ratings.
Pro-to-homeowner referral sites similar to Contractors.com include:
HomeAdvisor
: Matches homeowners with prescreened pros and also allows users to comment on contractors.
NeedContractor
: Users submit the details of a project and are contacted within 48 hours by at least 4 interested contractors.
Bidclerk
: Users submit the details of a project and are contacted by contractors bidding to do the work.
ReliableRemodeler
: Users submit the details of a project first from 21 popular home improvement categories.
A legitimate contractor will usually want to see a larger project in person before giving you a quote. For quick routine projects, like fixing a running toilet or replacing an outlet, a preliminarily visit might not be necessary, but you can get a good feel for a contractor's professionalism by phone. Use sites like Angie's List and Contractors.com as stepping-stones toward finishing larger projects, and do not rush into hiring the first contractor you call or that contacted you. Experienced contractors can offer insights into hidden costs you might have missed when they see the project in person. Reading homeowner reports on a contractor beforehand can put you at ease before meeting them.
Once a project is underway, the better sites offer customer support—staffed by real people. Jamie Weiss had an extensive renovation done on her Statesville, North Carolina, house that involved everything from new floors and painting to wiring and plumbing. With a general contractor scheduling the sub-contractors, there were a few mishaps along the way. "I called Contractors.com, and their agents discussed the problem with me and gave me the confidence to explain myself professionally to the contractor," says Weiss. "If the contractor was late, the website would call them for me." Angie's List goes even further, actually stepping in to settle disputes between homeowners and contractors.