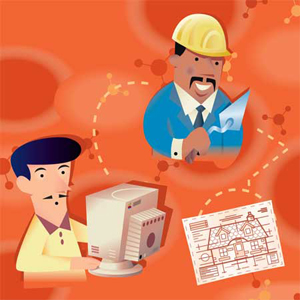 In a perfect world you'd have a black book filled with the names of reliable contractors who provide top-notch service at a reasonable price—and are thoughtful enough to wipe their boots before entering the house. Realistically, we usually rely on word of mouth, where finding a good plumber or roofer means asking a trusted friend, relative, or neighbor for a reference. But what if this networking fails to uncover a well-recommended pro? At that point, most of us turn to the Internet. Recently, it seems like websites dedicated to connecting contractors with homeowners are all over the web.
Wading through the plethora of websites offering to lead you to a qualified contractor can be daunting, so we've done some homework for you. We've researched contractor referral to create a cheat sheet on what to expect and how to use them successfully to get the best home improvement pro for your money.
Homeowner-to-Homeowner Websites
Angie's List
is a nationwide, user-generated rating and referral system. It relies on homeowners to grade and comment on contractors. The site, which launched in 1995, has grown to include over 300 professional categories. In exchange for detailed reports based on other homeowners' experiences with specific contractors in trades such as painting, carpentry, and gutter repair, the site charges users about $50 a year.
Homeowners evaluate contractors in areas like price, quality of work, and professionalism and award them letter grades from A to F—just like your high school report card. As an Angie's List member, you can search for contractors by zip code within your market, select a pro, check out how other homeowners have rated his or her work, and read about their experiences working with the contractor. The website is driven by the experiences of homeowners, and that's a responsibility that users take to heart. "There is this culture of 'I'm supposed to report,'" says Angie's List founder Angie Hicks. "The users understand the list is built by fellow members and they need to report on their experience with a plumber because if they don't someone else won't report on their roofer, and the system falls apart."
On Angie's List, Penny Cierzan of Minneapolis, MN, found a HVAC contractor with experience working on old homes—perfect to integrate central air conditioning into her 1920s colonial. "I was a little skeptical about joining at first because you have to pay," says Cierzan. "But after talking with contractors who asked if I've used Angie's List, I figured if they're recommending it when they have no control over what homeowners are saying, I'm going to take a look at it." To save money and be more involved during a project that doubled their living space, Cierzan and her husband Guy acted as their own general contractors. They turned to Angie's List to hire each of the specialty tradesmen they needed, including a plumber, painter, and roofer. "Using Angie's List, I was comfortable about the quality of the work I would get because I read the experience other people in my area had with (the contractors) before calling," Cierzan says.
Because contractors are not charged a fee to be listed on the site, they can't buy a top ranking or preferential referrals. A homeowner added Mike Bush, a plumber in Fishers, Indiana, to Angie's List in 2004. He has heard 'I got your name off of Angie's List' ever since. "If you look in the Yellow Pages, you just see the name of a person," says Bush. "If you go to Angie's List you see the same name, and you can read what 25 other people have said about that contractor." That helps give homeowners peace of mind.