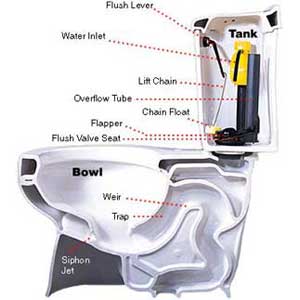 Everything should be as reliable as a toilet. It's not unusual for one to last more than 40 years with only a minimal amount of care. But, occasionally, water will begin to leak out from under the toilet and spill onto the floor, which can lead to serious water damage. But this type of leak is easy to diagnose and fix, even if you've never attempted a plumbing repair.

The leak is usually caused when the seal under the toilet fails. Even if this hasn't happened to one of your toilets yet, this "Home Care" is for you. You'll learn how to install a new wax gasket to create a watertight seal between the toilet and the closet flange and install a new flexible water-supply tube.

Finding the Problem
Water pooling around the base of the toilet is a good indication that the wax seal has failed. But in some cases the problem lies elsewhere. Soak up the water from the floor with a sponge and dry off the toilet with a towel. Wait until a new puddle appears on the floor, then check to make sure the water is seeping out from under the toilet and not coming from a loose supply tube, faulty shutoff valve, cracked tank or sweaty bowl.

If water is leaking from beneath the toilet, you might be able to stop it by simply tightening the closet bolts that secure the toilet to the floor. Use a putty knife or slotted screwdriver to pry off the caps that are covering the bolts. Then use a wrench to alternately tighten each bolt, a little at a time. Be careful not to apply too much pressure; you can crack the toilet's base.

If you're lucky, the leak will stop. If tightening the bolts doesn't help, you'll have to remove the toilet and replace the wax gasket.