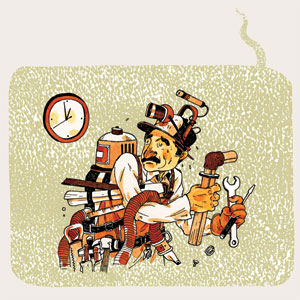 CASE #5:
Wall Be Gone

Bernie S., Manitowoc, Wis.
"I hired a contractor for an old-barn restoration. Part of the project involved a room with a unique plank-sided wall. First day of work, the contractor called offering to dispose of the wall. I said no—preserving it was part of the restoration. I thought no more of it until I dropped by the barn some time later. The wall was missing! I later discovered that the crew demolished the wall because it was in their way. Then the contractor tried to cover it up with his generous offer."

Rory's Diagnosis: Anytime we keep a wall, we put something on it saying save, save, save. But you should have that information on paper, too. It appears as if no one was following a written scope of work. Truth is, when a crew is doing demo, they want everything to go into a garbage container because, ultimately, what's not trashed is in the way.

Reva's Diagnosis: There was clearly no communication with the crew, and the contractor wasn't on-site. But Bernie also shares blame. All homeowners need to keep an eye on their projects. After that call, I would have gotten in my car to go take a look.