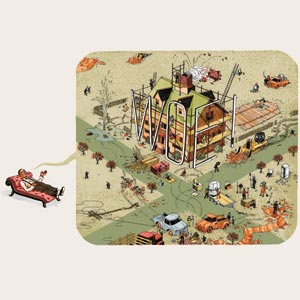 Our remodel therapists listen to your remodel sob stories and offer strategies to avoid that next home-improvement trauma—no inner child involved.

CASE #1:
Wedding Bell Blues
Tracey Ann D., Philadelphia, Pa.
"We had a deadline for our kitchen remodel: our wedding, on October 20. Work began on September 7. The first problem was that our wall cabinets were hung upside down. Next, we asked for oak butcher block, but we got maple, and the subway tiles in the backsplash were cracked and sticking out in places like buckteeth. Two weeks before the wedding—still with no running water, sink, or counters, and with only one naked bulb hanging from the ceiling—we had to fire the contractor. There was a silver lining, though. The wedding was lovely!"

Rory's Diagnosis: These people hired a bum. The only way to protect yourself is to get recommendations. You wouldn't pull into just any garage and say, "Hey, do my brakes." No, you'd ask a friend "Do you know a mechanic?" Same goes for finding a contractor. But don't just get a name and number; get an address, and check it out. Then look at the contractor's portfolio and ask questions about the photographs to be sure he's showing you projects that he did, not somebody else. That's one trick. The last thing is to go see the work in person. We take people to past clients' homes all the time so they can see, feel, and touch our work.

Nitsa and Ignacio: As with any renovation project, there are always delays. You don't know exactly what they'll be, but you can predict that they'll happen: Cabinets won't arrive on time, the contractor will get sick, there'll be bad weather. So starting something seven weeks before your wedding really is a disaster waiting to happen. It's better to wait, and take it one life-changing event at a time.