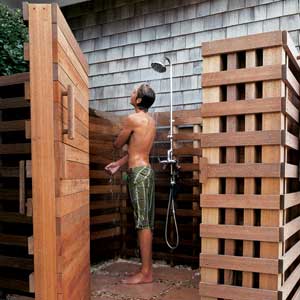 You don't have to be shivering in a sandy swimsuit to appreciate an open-air shower. Even landlocked homeowners—stressed-out townies, gritty greenthumbs, suburban soccer dads—are discovering that bathing outdoors is not just practical, it's downright luxurious. That's how architect Howard Backen sees his shower. Every morning, he's out there, lathering up to the sound of birds in his garden and the sight of mountains beyond his home in California's Napa Valley. "It's invigorating when it's cold, it's interesting when it's rainy, and it's incredibly refreshing when it's sunny and hot," he says. Whether the goal is to wash off the day or to commune with nature, there is an outdoor shower for you. The simplest is a foot sprayer hooked to an existing cold-water spigot. The most complicated and expensive is an outdoor shower with cold and hot water, a custom enclosure for privacy, and a built-in changing room for convenience. What's universal about any alfresco shower is that it beckons you outside. And yes, for some, it's also about the exhilaration of being in the backyard in the buff. Here's what you need to know to create the outdoor shower that best suits your naked—or not-so-naked—ambition.

Site Selection
Determining the best location for an outdoor shower depends on how you'll use it. Luke and Allison Babcock put the foot shower at their Sag Harbor, New York, home near the front door so when the couple and their two daughters return from the beach they can spray off the sand before going inside. Others opt for a shower by the pool for a postswim rinse, or close to the back door for the resident athlete just back from a sweaty jog.
The best outdoor showers also take advantage of the natural beauty of the surroundings. For a family in Bridgehampton, N.Y., architect Nick Martin designed a shower with a mahogany enclosure that he situated toward the back of the house to offer views of a rose garden and a farm across the street.

Plumbing can also dictate site. A shower on a deck near the kitchen or bathroom or on a ground-floor patio off the laundry room means you can tap into existing hot- and cold-water lines. One placed in a remote cluster of trees, though appealing, requires digging a trench and running pipe to the destination.