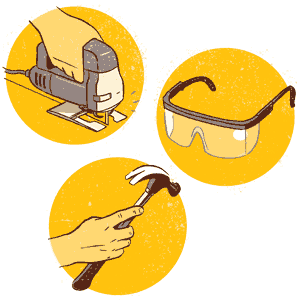 Teach kids good workshop habits from the start. Here are a few guidelines for the tools used in this project:

Hand Tools
Get kids used to beings in the workshop and handling tools by having them do safe jobs like measuring, marking, and painting.

Power Tools
Jigsaws are better off in adult hands. Older kids can help out by using the drill with adult supervision.

Gear
Keep sleeves away from saw blades and drill bits. Whenever the jigsaw is on, safety glasses are a must.