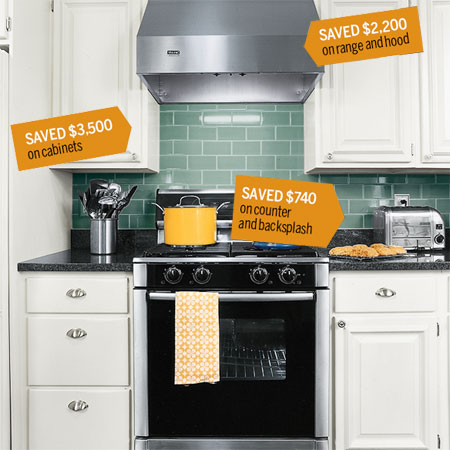 Homeowners Augie and Emmeline Harrigan of Milford, CT, were able to re-do their entire kitchen for $6,000. Here are a few of their tips for getting the best deal.
Eliminate shipping costs:
Search regional online classifieds like
Craigslist
and
eBay
's new
Kijiji
site for large items that you can pick up yourself to save on postal charges, says Emmeline. For instance, it can cost as much as $200 to deliver a range bought from an out-of-state seller versus the cost of gas if you buy locally.
Use coupons and rebates:
Clip coupons in the Sunday paper. And sign up for e-mail blasts from stores you frequently shop at, says Augie. "Just be selective, because before you know it, your inbox will be full of newsletters touting sales." Some websites, including
FatWallet
and
GottaDeal.com
, also broadcast discounts via e-mail alerts that you can subscribe to.
Compare prices:
Shopping.com
and
BizRate
chart online retailers' prices so you never pay too much. The sites also provide reference for used goods. "When we find an item on Craigslist, we look up the retail price first to make sure it's a fair deal," says Emmeline.
Automate the auction:
"I've never been much for watching and waiting," says Emmeline, who is impatient with the bidding process on eBay. Instead, have eBay send text alerts to your cell phone when you've been outbid, so you can log back in to the site and up the ante.
Sign up for credit card points:
Make big purchases with your credit card to earn reward points that can be redeemed for appliances and gift cards from a wide array of stores. Just be sure to pay off the balance before the interest kicks in. "Child-care payments earn us 24,000 Amex points a year, which translates into a $250 Home Depot gift card," says Augie.
See a slide show of Augie and Emmeline's
High-Style, Low-Budget Kitchen Redo
and learn more about kitchen renovation savings.