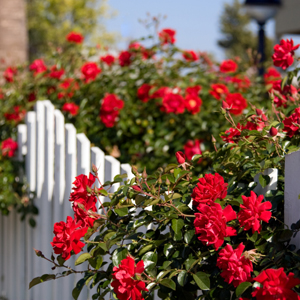 Maybe you think you know roses—those long-stemmed, full-petaled beauties that need a lot of coddling to keep disease at bay. Well, it's time to rethink the rose's high-maintenance reputation. In the last 10 years or so, the familiar "hybrid tea" varieties have been giving way to tough, easy-to-grow, repeat-flowering,
shrub-type roses
that can play a versatile role in the landscape. These new varieties—along with some old garden standbys—are taking their rightful place in flower borders and containers, as hedges, and even as groundcovers. And they are making the most of their moment in the sun, providing the longest season of color of any flowering shrub you can grow.
Major Flowers, Minimal Fuss
Known as landscape roses, these plants are "free-blooming," meaning that with proper care, they flower continuously from spring to fall. There will be some downtime when the plant has few or no blooms, but it won't last long. These roses are also vigorous and easy to care for, with excellent disease resistance. Most yield cuttings without complaint, though landscape roses generally bear flowers in large clusters and have fewer petals than hybrid teas. Disease resistance is probably the most important criterion for a landscape rose. The "big three" diseases—black spot, rust, and powdery mildew—can devastate roses, defoliating and deforming them. The frequency and severity of rose diseases vary from region to region and season to season, depending on the climate and the weather. Black spot, the scourge of many gardeners in the eastern U.S., thrives in hot, humid, rainy weather. Powdery mildew likes the warm days and cool, humid nights common in spring and all season long in many coastal areas. Rust likes it mild and moist. Disease resistance is also relative. Under ideal conditions even the most resistant varieties may experience some disease. But, as a whole, landscape roses thrive with little or nopreventative or curative treatments.