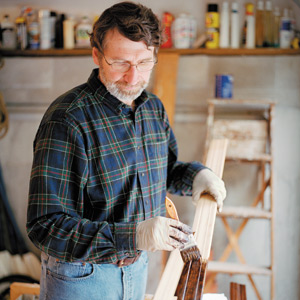 As the host of The New Yankee Workshop for 20 years, This Old House master carpenter Norm Abram has closely studied and built many fine replicas of antique furniture heirlooms. Here are his recommendations for what to expect in a piece of top-notch furniture.

• Look for solid hardwood construction (avoid fiberboard or MDF).

• Ensure that wood grain and color match closely.

• Choose furniture with wood-to-wood joints that are glued and gap-free.

• Avoid pieces joined with metal fasteners, which tend to corrode and loosen. (If fasteners are used, make sure they're well hidden.)

• Check that drawers slide in and out easily, even when pulled with one hand.

• Make sure that the wide pieces of wood in drawer bottoms and tabletops are attached in a way—say with sliding dovetails—that allows them to shrink and swell with the seasons. Otherwise, they will crack. Opt for a tough, easy-to-repair finish, such as shellac or a penetrating oil.