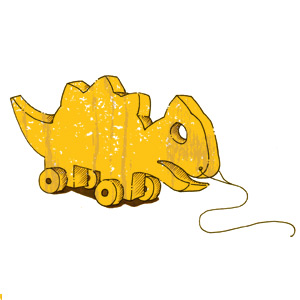 Now that your kids have the coolest toy chest around, why not make some toys to go inside it? If you feel comfortable with a jigsaw—or better yet, if you have a scroll saw—then you can easily cut up the scraps left over from the toy chest to make these simple items.
Old-Fashioned Pull Toy
Cut out your favorite animal shape, then attach some wooden toy wheels (you can find some at
Rockler Woodworking and Hardware
), tie on a string, and you've got a toy that will keep a toddler busy for hours.
Spinning Top
You don't need a lathe to turn a top—just cut out some circles of different sizes and stack them to make the top shape. Screw on a handle and use a blunt nail to make the point at the bottom, then twirl away.
Jigsaw Puzzle
Take apart your favorite picture, then put it back together for loads of fun. Print out an image—maybe a a beach, or a horse, or your family portrait—then use mounting spray to glue it to a piece of plywood. Cut it up into interlocking shapes, then challenge the family to reassemble it.