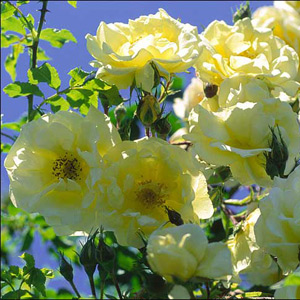 Rosarian Mike Lowe sells everything from hybrid shrubs to old English varieties at his Nashua, New Hampshire nursery
Lowe's Roses.
Take a tour of his own two-acre property, though, and it becomes clear that he favors roses with a climbing habit. The landscape is divided into half a dozen "garden rooms," formed by the placement of stone walls, wood fences, arbors, and a greenhouse, most of which cascade with blooming roses each spring. These vinelike roses give the space a colorful and natural appearance, as if even the architectural features had grown up from the ground. "I get changing views through the seasons—bare canes and red hips against granite or wood in fall, dark green foliage when the blooms have past, and, of course, the profusion of bright red, pink, yellow, and white flowers when they're at their peak," says the 40-year veteran of rose growing.
Vining roses come in two primary types: climbers and ramblers. Both categories contain dozens of varieties that will trail along fences, clamber up trellises, encircle lampposts, and cover weathered sheds. And though rosarians don't always agree on which roses belong in which classification, each group tends to have its own characteristics. Climbing roses generally grow to a height of 8 to 10 feet, which is ideal for most structures, and flower at least twice from early summer into fall; some new varieties bloom continuously throughout the growing season.