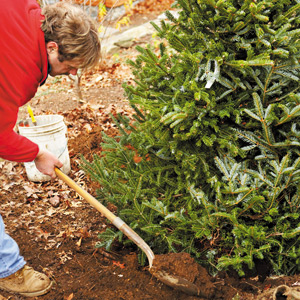 Move the Tree Outside

Your tree's total indoor stay should be no more than 10 days. Any longer and the house's warm, dry air will fool it into thinking spring has sprung, and it will put out new growth. Those tender shoots will die back in wintry conditions, stunting the tree's future development. In cold-weather regions, transition the tree to the outdoors by moving it into a cool shed or garage for a day or two to give it time to acclimate. In balmier climates, you can move the tree directly to the hole.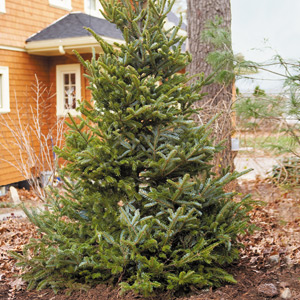 Plant it

With the tree in the hole, remove the nylon strings that truss its root ball. Then cut away as much of the surrounding burlap as you can to prevent the material from wicking up water and causing the roots to dry out. Fill in around the base using the stockpiled soil until earth covers the trunk up to the same point it did originally in the field. "You can see this mark by looking for color changes on the bark," says Roger. Water well, spray the needles once more with antidessicant, and cap the soil with a 3-inch layer of insulating mulch. To help the tree establish itself in its new environs, Roger recommends regular irrigation over the next few years during the growing seasons, adding, "With just a little follow-up care, your tree should last for many Christmases to come."