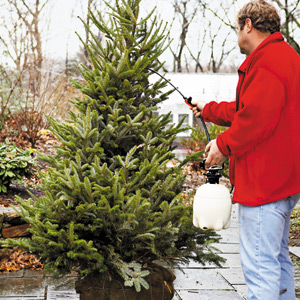 Transport Your Tree

When you pick up the tree from the nursery, grab the nylon strings tied around the burlap-wrapped root ball, or hold on to the ball itself to hoist it into your vehicle. Just don't lift it by the trunk, which can cause the roots to tear away from the tree. To keep branches from breaking on the road, wrap them loosely with twine. Once the tree is safely on the ground outside the house, remove the protective covering and shake the branches so loose needles fall. Then spray the tree with a natural antidesiccant, such as one made from pine resin, to minimize moisture loss through the needles.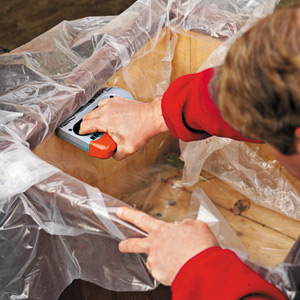 Put it in a Container

An inexpensive plastic pot works fine, but it's not much to look at; a wicker laundry basket or galvanized-steel washtub lends a little more character. Whatever style you choose, make sure the container is waterproof, or fitted with a liner to prevent leaks, and that it's just slightly larger than the root ball, as a snug fit will help maintain proper moisture levels. To waterproof the wooden crate used here, Roger stapled two layers of thick plastic sheeting inside. Then, with the root ball still wrapped in burlap, he set the tree in the crate and filled gaps around the ball with wood chips to level and steady the tree.

Cart it Inside

To move the potted tree, pivot and scoot the container onto a hand truck. Once inside the house, Roger suggests switching to an improvised sled: an upside-down carpet remnant. The pile slides easily over hardwood floors, prevents scratches, and can be left in place under the container.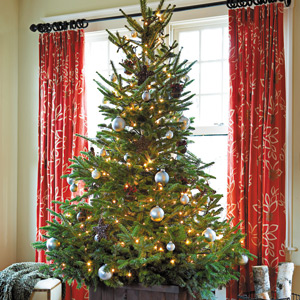 Position the tree near a window, where it will stay cooler, and away from heat sources like a fireplace or HVAC vents. It's also a good idea to avoid decorating with large lights, which give off a lot of heat; strings of tiny twinklers or LEDs are a better choice. The tree will need water daily, which it'll absorb through the burlap. The roots must stay moist but should not be in standing water. When in doubt, poke a finger into the soil to test for moisture.