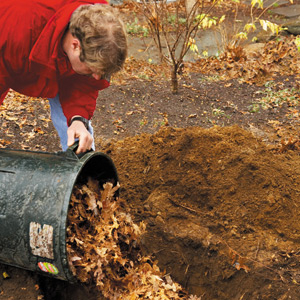 Pick a Planting Spot

A well-sited tree can provide privacy from close-by neighbors or help screen against winter winds. Roger chose a spot near the driveway for this tree so it could help shield views of parked cars from the front entry. Since most conifers favor sun, you'll want to pick a bright area, but be mindful of the tree's proximity to other plantings. A white spruce, for example, can grow to more than 90 feet, shading nearby shrubs and flowers. Allow a buffer zone of several feet between the tree's size at maturity and the house and surrounding hardscape elements, as limbs could one day brush against rooftops and roots could push up pavers.

Prep the Hole

Because most live trees are field-grown, with roots and soil wrapped in burlap, dig a hole that's between 9 and 12 inches deep—the typical height of the root ball. Any deeper, and loosened soil can compact and cause the tree to sink. The diameter of the hole should be about 4 feet, or at least twice that of the ball, so roots can easily spread. In the frozen Northeast, Roger shovels the soil onto a tarp and backfills the hole with leaves to insulate its earthen walls. He then covers the hole with the soil-topped tarp, and lays a second tarp on top. More insulating—and tarp-hiding—leaves cap the "soil sandwich." If your area doesn't experience a hard freeze, simply excavate after the holidays, following the same guidelines for digging the hole.