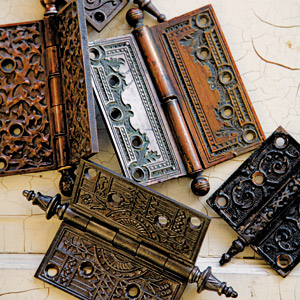 I was flipping through the newspaper a few weeks back when my eyes landed on a photo of door hardware that matched a rare antique hinge I'd recently admired at a Texas salvage shop. The hinge, which depicted two Japanese geishas standing on a bridge—one shaded by a parasol, the other stooped under a lantern—was cast in the late 1800s by Connecticut metalwork manufacturer Russell & Erwin.

The escutcheon plates in the picture were the same style but told a different story, with a woman ringing a bell from the balcony of a tall pagoda. My interest piqued, I read the accompanying write-up of an exhibit of late-19th-century household brass goods at the Bard Graduate Center for Studies in the Decorative Arts, and planned a visit. The show had door hardware, but also lamps, plant stands, and fireplace andirons, many featuring Japanese motifs, such as swooping cranes, delicate cherry blossoms, and bamboo latticework. Designers during the American Victorian era were rather obsessed with all things Japanese after seeing porcelain vases, bronze urns, and other artifacts from that country at the Centennial Exhibition of 1876, in Philadelphia.

What amazed me was that these intricately patterned objects were mass-produced in factories, rather than hand-forged in artisan shops. Cast in brass, bronze, copper, and steel near the end of the Industrial Revolution, the wares were sold in catalogs to style-conscious consumers looking to embellish their interiors.