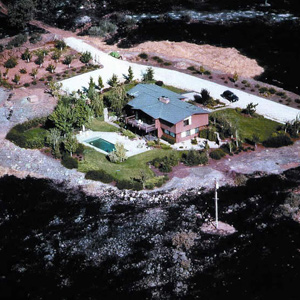 In the wake of the relief effort after California's recent wildfire devastation, a major component in
fire-safe home rebuilding
is "defensible space"—a specially planned and designed area around your home that provides maneuvering space for firefighters, serves as a barrier to impede raging wildfires from getting to your doorstep, and prevents house fires from spreading to the wild. In contrast to the traditionally lush American yard, a defensible space uses the judicious selection and placement of plantings as a strategy to decrease the spread of fires.
Since many homeowners neglect to incorporate defensible space into their landscaping—fire-safe designs have a reputation of diminishing curb appeal—California has initiated the
Why 100 feet?
campaign, complete with billboards lining the interstate. Effective January 2005, a 100-foot defensible space around homes, following a two-zone model, was required by California state law. Defensible space doesn't have to be unsightly, though. In fact, a working knowledge of how defensible space can save your home, as well as an understanding of the right plants to use, may sway even the most fastidious of gardeners.
Zones
While California only requires a mandatory 100-foot defensible space in two zones, models can include up to four zones. Zone 1—the area closest to your home and any other structure on your property, like garages and guest houses—is the immediate perimeter, extending 30 feet out from the edge of the structure. Applying defensible design in this space, along with clear street signs and house numbers, will make it easy for fire-safety workers to get to you in an emergency. Zone 2 extends 70 feet past the end of Zone 1, completing the mandated defensible space area for California residents. However, if your property line lies beyond the 100-foot defensible space, you should also maintain any forested areas in Zones 3 and 4 of your property by trimming trees to keep them clear of each other and removing litter.