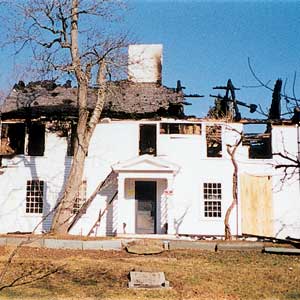 "No way," declared Norm Abram.

This Old House's master carpenter stood in the charred living room of a burned-out saltbox in Ipswich, Massachusetts, shaking his head at the prospects for making it livable once again. But when Norm delivered his assessment to the owner, Charles "Chubb" Whitten, the 40-year-old industrial property developer just smiled. Compact and muscular, and a buzz-saw of a man—"I'm Type A-plus," he says cheerfully—Whitten had already decided to rebuild his circa-1720 house when Norm and Steve Thomas dropped by in the spring of '98 to size it up as a potential TV project. He listened politely to Norm's rationale: Not only would the renovation take far longer than the show's six-month production schedule, it was most likely doomed to fail. "I worked a fire job once, and swore I never would again," Norm told him. "You'll never get the smell out.… Pull it down and start over."

But even as Norm demurred, Whitten squinted at a blackened chestnut beam and imagined himself sawing off the lumpy black char. Now, just one year after the show passed on the project, Whitten stands triumphant in his restored post-and-beam living room. He points at the meticulously plastered ceiling. "A year ago, you could see right through to the sky from here, " he says. "We lost most of the house, but now it's better than new."

And the smell? "None," says Whitten, and he's right: Throughout the 4,200-square-foot house, once again a glory of hand-planed beams, pine paneling, and tightly mitered trim, not a whiff of smokiness remains. In the living room, only the tang of fresh wax on the newly laid floorboards hangs in the air.

"This whole experience proved that you should never give up on something just because it looks hopeless," says Jane Alaimo, Whitten's ex-wife. The remark bears not only on the reconstruction effort, to which she devoted many long hours herself, but to the couple's relationship: She and Whitten had already begun a reconciliation before the fire, which the ordeal helped strengthen.