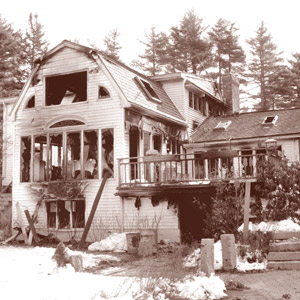 Your house is on fire," John Silva said.

Dick Silva, coated with sawdust as he worked a remodeling job in Lexington, Massachusetts, felt his stomach knot. It was 11:15 a.m. on Tuesday, March 9, 1999, and his brother's voice on the cell phone lacked any trace of its usual joviality. "John's a big kidder, but I knew he wouldn't kid about something like that," Dick recalls.

So Dick—a skilled carpenter who, along with his brothers John and Tom and his nephew Charlie, has helped on a half-dozen This Old House projects—sprinted to his truck. After 20 tense minutes he reached his home in Billerica, 20 miles north of Boston. "There were firemen all over the place," he says, shaking his head. "Flames were shooting out of the windows."

Seven fire trucks from three towns spent the next five hours pouring water on the 70-year-old four-bedroom Cape. As Dick watched helplessly, friends and family, including Tom and John, cried, hugged, and shivered in the late-winter chill. It wasn't until 4:30 p.m. that the last embers were snuffed out.

Fortunately, no one was injured, aside from Penny, the Silvas' 7-year-old shar-pei. Before she escaped via the dog door, the fire singed her fur and filled her lungs with smoke. But the house where Dick and his wife, Sandra, had lived for 32 years and raised their three daughters was a total loss, devastated from cellar to attic.

"That night, we literally had just the clothes on our backs," says Sandra. "We got into the car in a daze. We didn't even know where we were going. We found a motel that would take us and the dog. It felt unreal not to be in our own house."