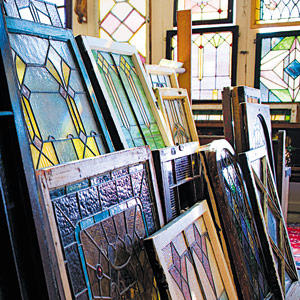 Most kids get their first glimpse of stained glass at a house of worship, but not me. I came downstairs all bleary-eyed one morning to find two 12-foot-tall colored glass mosaics depicting the baby Jesus in our living room. My mom rescued the windows from a church in Newark, New Jersey, that was being gutted. She couldn't bear to see them destroyed. She also envisioned how nice they'd look in our home, a converted Victorian-era carriage house with soaring ceilings.

You see, my mom is a collector of all things old and beautiful, much of it—giant Buddhas, silk prayer rugs, bronze communion rails—religious in nature. To display the windows, she had a carpenter mount them in wooden shadow boxes with lights inside so they would glow from behind. They looked really cool at night, though house guests tended to whisper as if they were in some sort of chapel.

When we moved to a 1736 farmhouse with less lofty proportions, my mom donated the windows to a local museum. I guess that's why today I love hanging out at the Cloisters, near my apartment in upper Manhattan. A medieval art outpost for the Metropolitan Museum of Art, the place has the most amazing European stained-glass windows, some dating to the 12th century.

I also get my fix at salvage yards that are filled with far simpler—and wholly secular—versions with floral and geometric motifs that typically sell for between $100 and $2,500. Unlike their Christian-themed predecessors, which often told biblical stories through pictures, the architectural stained-glass windows in Queen Anne, Craftsman, and Tudor-style houses were used for their beauty and function. Installed as sidelights flanking a front door or instead of standard double-hung windows ina dining room, stained glass provides privacy and can obscure an unsightly view without blocking natural light.