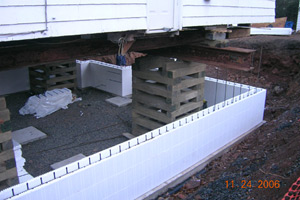 I'll never forget the first time I laid eyes on my house. It was a perfect spring day, morning sun glinting off the white clapboard siding, a cascade of pink cherry blossoms spilling onto the newly tiled roof of the den. If it wasn't the cutest Dutch Colonial Revival I had ever seen, it was easily the cutest my wife and I had seen that we could afford in 12 months of increasingly frantic searching. It was the sort of house I could imagine raising a family in.

Now it is three-and-a-half years later, and the object of that infatuation dangles bare-bottomed 20 feet in the air. Hoisted up and moved into the backyard, it hovers above the rim of a 30-foot-deep mud pit where the foundation used to be. The crater swarms with backhoes, chain-smoking construction workers, and rumbling dump trucks hauling contaminated dirt. The heavy industrial odor of home heating oil permeates the air.

I always wanted to own the kind of house that stops traffic, and now I do. All day long, cars slow at the curb, drivers and passengers craning for a better view of the worst, most expensive environmental disaster in the history of my tiny New Jersey town. Jaws drop in fascinated horror. Overstimulated toddlers bounce up and down in their car seats.

The reaction is understandable. Our homes, after all, aren't just where we live. They're where we invest our dreams—and our savings. They're supposed to be our rock, our firmament; the ground isn't supposed to come out from under them—or us. But what the rubberneckers don't realize is that the horror show they see before them could be worse. I could be still battling insurance companies, racking up $10,000 a month in legal bills, hearing about my wife's latest research on the best Latin American countries for fleeing the new bankruptcy laws, and watching her health and my work performance steadily decline under the unrelenting distraction and stress. Compared with all that, this is practically cause for a party.