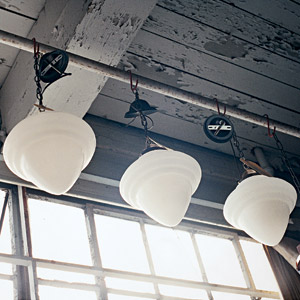 Today, you have only to flip a switch. But in the late 18th century, lighting a chandelier was…difficult. After climbing the ladder—or more likely steadying yourself on a chair—and lifting the heavy wrought-iron fixture off its giant hanging hook, you then had to break out the tools: tinder box, striker, and scissor snuffer. Candlewicks couldn't just be lit, they required frequent trimming to keep them from smoking up the house.

I tell you this not to discourage you from hanging a period light fixture above your dining table but to demonstrate how far household lighting has come. Plus, most of the chandeliers and pendant lamps that you're likely to find dangling from the rafters in architectural salvage and antiques shops are far less troublesome.

Thank Thomas Edison for that. In 1879, he invented the first commercially viable incandescent lightbulb and, more important, the electric lamp to power it. That meant Americans could stop fussing with candles and later gas fixtures. Victorian-era urbanites who were wealthy enough to take advantage of gaslight technology, which preceded electricity in the home, converted their elegant "gasoliers," swapping out jets for sockets and running wires through piping that previously pulsed with fuel.

These converted fixtures are among the most expensive today. They are also some of the most opulent, with cast brass or bronze arms decorated with floral, animal, and human forms, and with hand-blown glass shades, often in brilliant colors. One such chandelier, with ram's-head castings and frosted glass shades, salvaged from a late-19th-century Second Empire–style mansion in Bar Harbor, Maine, costs $8,500 at Blue Dolphin Antiques in nearby Northport.