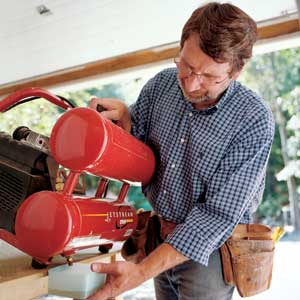 My Favorite Air Tools
I use my compressor most often for nailing. My 18-gauge brad nailer gets the most use, but on delicate trimwork that could easily be marred, I really like those small pin guns that shoot headless 23-gauge nails. They barely leave a hole, so I rarely have to putty over them. I break out the framing nailer when I'm building stairs or multiple walls; otherwise I just hammer by hand. Framing nailers are also useful for structural retrofits—say, when sistering a new joist next to a bouncy old one. That's because a single shot from a nailer is less disruptive than pounding away with a hammer.
Plugging Leaks
The last thing you want is air leaking out around the hose fittings before it even reaches your tool. You can get an airtight seal with a couple of wraps of plumber's Teflon tape around the male threads on the fitting. Always wrap the tape clockwise around the threads, as shown—that's the same direction you'll turn the fitting when you attach it to the end of the hose. Wrap the tape the wrong way and it will lose its grip and bunch up as you tighten the fitting.
Fix for Damaged Hoses
Well-used air hoses get chafed, clipped, punctured, or cut. Fortunately you can easily repair either a standard
½
- or 3/8-inch hose with readily available kits that include barbed fittings and hose clamps. You can splice two cut ends together, as shown, or just add a new threaded end fitting.
1. Cut out the damaged section. Slice squarely through the hose with a utility knife, leaving a clean surface on each end.
2. Insert the splice fitting. Slip a loose hose clamp onto the hose, then press the fitting firmly into the hose as far as it can go. Slide the hose clamp up to the fitting and tighten it with a screwdriver.
3. Insert the other hose end. Put the second hose clamp on the ­other section of hose and push the hose onto the barbed fitting. ­Tighten the clamp next to the fitting, then give each clamp another firm turn to lock the fitting in place. ­Cover the hose clamps with electrical tape so they don't snag on things.
Norm's Tip
Before you coil a hose, disconnect it at the compressor. Otherwise, the air trapped in the hose will make it hard to maneuver.