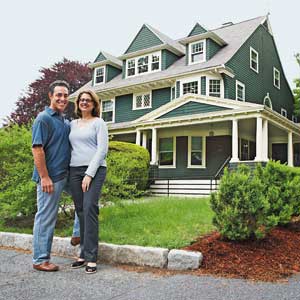 Paul Friedberg was a little startled when Tom Silva walked into his new house, a rambling suburban Shingle-style much in need of an update. It wasn't so much that the familiar
This Old House
general contractor had come by to check out the place. Paul had invited him, after all, along with the show's producers, to whom he was already giving the grand tour. It was more that Tom entered brandishing a video camera. "He just started filming me talking about our plans for the house," says Paul. "Would I say it felt like an audition? Yeah, a little bit."
Tom's real intent was to document the house and get a record of the work to be done, but it was still a good sign. It meant Paul and his wife, Madeline Krauss, were in the running to be the next homeowners featured on
This Old House
TV. Just a couple of days earlier, they had e-mailed producer Deborah Hood their story, and now they had the whole production team in their Newton, Massachusetts, home. All told, it was just 72 hours from their e-mail pitch to getting the call that they'd been chosen to be on the show.
Seems quick, even for television. But finding a house for
TOH
TV to feature is the result of a unique mix of producer tenacity, homeowner pluck, and plain old good timing. Twice a year, the producers review thousands of proposals sent by eager homeowners, while simultaneously contacting architects, real estate agents, and historical boards for likely candidates. They also put a
call out on our website.
So what are they looking for? Well, the good news is the answer changes with every project. But there are some constants. So if you've ever dreamed of getting the
This Old House
crew to show up at your doorstep, read on to find out what makes for a perfect project—and whether you might have what it takes.