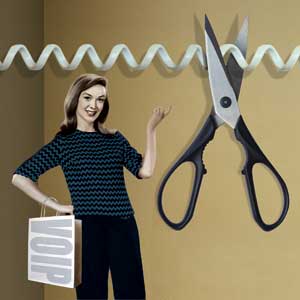 By now you've no doubt seen the ads for Internet phone service that promise dirt—cheap rates on calls to just about anywhere. The technology—Voice Over Internet Protocol, or VOIP—uses your high—speed connection as a digital phone line, allowing you to bypass the phone company and its usual charges. VOIP has a few advantages over conventional phone service. In addition to saving you money, it's easy for a homeowner to set up and use. You can install it yourself, which means you can kiss those four—hour appointment windows good—bye. You still get all of the familiar phone features, like call waiting, caller ID, and voice mail. You can even use your existing telephones, and some services let you keep your number.

"VOIP is just a way to talk to somebody that has the benefit of drastically reduced cost," says Scott Bourquin, owner of Rustic Creek LLC, a VOIP installation company based in suburban Houston. "The only thing that's different is that you're plugging into a network jack instead of a telephone jack."

The Equipment You'll Need
Before you run out and sign up for VOIP service, you'll need to make sure you've got the necessary equipment for a quick and successful switch. If you plan on keeping your old phone, you'll need a converter box that accepts a telephone cable and plugs into a network jack or your computer's router. Most VOIP companies will sell you a converter for $30 to $60, and some will give you one free if you become a subscriber.

Or you could upgrade to a VOIP phone, which plugs directly into a network port, no converter necessary. These come in a wide range of styles that look and work just like the ­corded or portable phones you're used to. Since you probably don't have a network jack in every room, you can get cordless handsets that communicate through a base station plugged into your Internet connection.